Racer Review: K1 Speed Toronto's New Track is a Hit!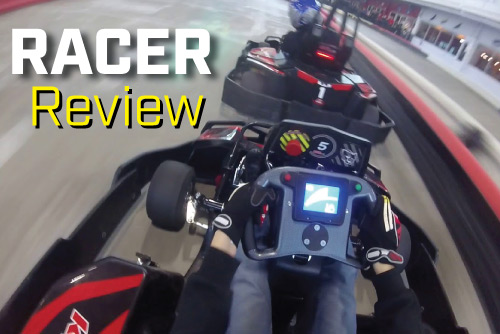 After a year of close competition at K1 Speed Toronto, even the best of racers will have to completely relearn how to set quick lap times. The track has been reconfigured.
The 1st corner is a flat-out, late-apex right-hand corner followed by the 'tunnel' section with its tricky left at turn 2 and a double-apex right-hander at turns 3 and 4. Full throttle on the back straightaway below the iconic Formula 1 mural. Turn 5 remains a fast right-hander, but the original configuration gave drivers a chance to straighten out their karts on the next stretch of track before the hairpin. But that's gone now! K1 regulars will be shocked by how quickly the next sequence of corners arrives. There's a right-left combination of corners 6 and 7, followed by a short straight. You barely catch your breath before reaching the final section of the track, which is the biggest change; rewarding if done right. There's a sequence of corners starting with a left at turn 8, quickly succeeded by another hairpin right at turn 9. It's all about exit speed at this point. Try to defend the inside line and you'll be slower. But let the car drift onto a wide arc, all the way to the wall if you dare, and you'll carry much more speed through the 180-degree carousel corner comprised of turn 10, the start-finish line, and turn 1 to start another lap.
The new track layout is very challenging, but also provides more overtaking opportunities. Drivers can go side by side through sequences of corners making, cutbacks and outbraking each other.
On the original layout, most overtaking manoeuvres were simply made by dive-bombing the driver in front under braking. The high-speed hairpin at turn 6 was the main location for this. After that hairpin was another hairpin, the slightly awkward turn 7. While the old 6-7 layout didn't allow for much defending of position, the new track absolutely does, and allows drivers to get creative. By putting turns in opposite directions right next to each other, it gives the leading driver an opportunity to fight back, while allowing the attacker to pull off some very exciting moves if aggressive enough.
Track records are the benchmark racers try to beat, but with the new track configuration, everyone is still trying to figure out different racing lines. The original circuit featured two heavy braking zones at turn 6 and turn 9, but the new circuit is much quicker and more flowing. The final corner changes from a stomp on the brakes hairpin to a fast sweeper, allowing drivers to accelerate to higher speeds into the tricky tunnel section of turns 2-3-4. It's a new challenge and a huge improvement on the original layout.
With high speeds, challenging sequences of corners and better wheel to wheel racing than ever, you simply must visit the newly configured circuit at K1 Speed Toronto.
Zero Emissions, 100% Adrenaline
Daniel Demaras is a 15-year-old karting enthusiast who shares his passion for karting on both the outdoor and indoor tracks, including K1 Speed. Daniel races for Professional Racing Ontario.  Learn more about Daniel on his website www.demaras.com