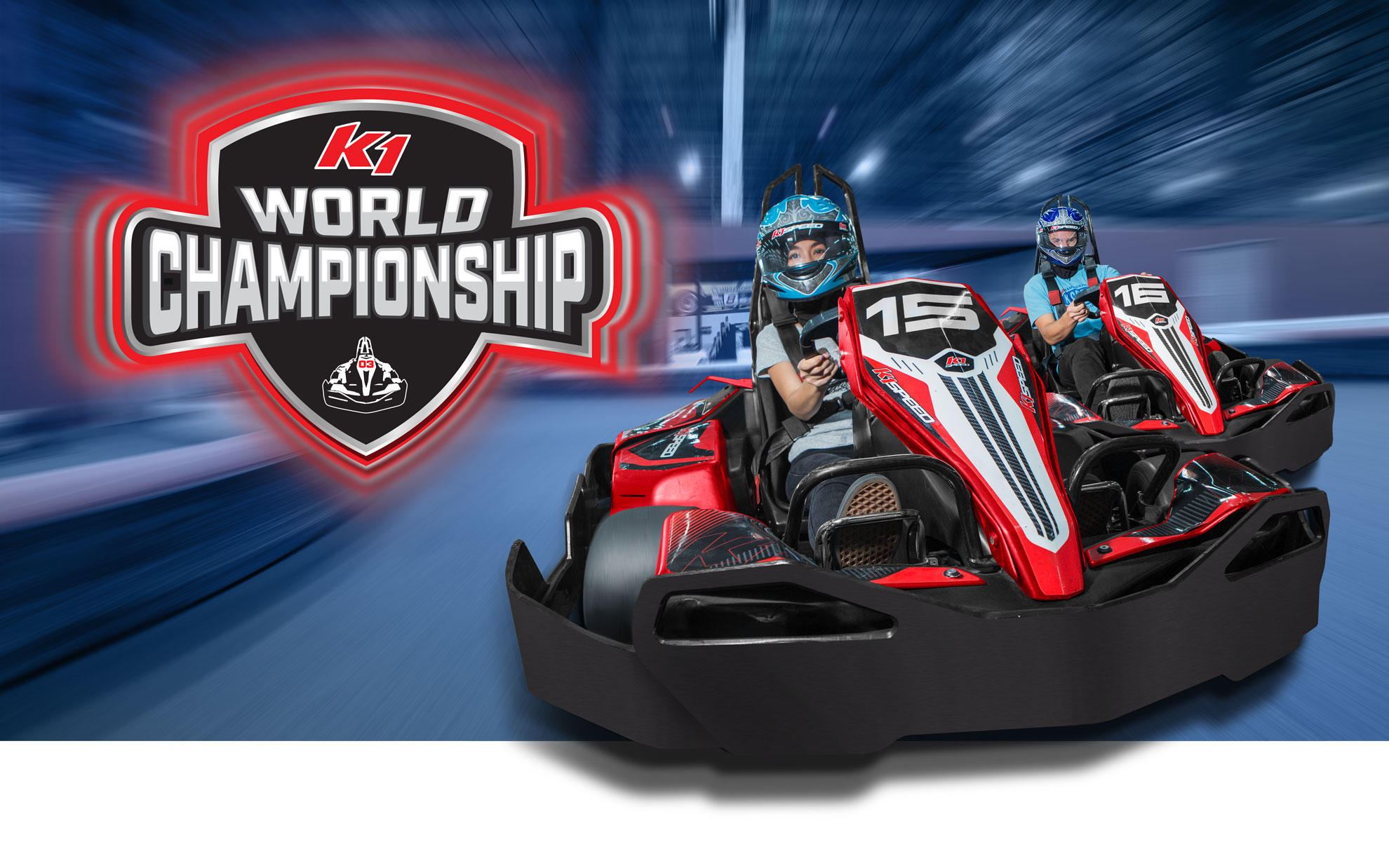 Brand-new championship to feature representative drivers from every K1 Speed location around the world.
K1NG of Speed Elimination to produce Center Champion at all K1 Speed centers
All Center Champions invited to participate in the K1 Speed World Championship finale held at the All-New K1 Circuit
Four championship categories include: Center Champion, Region Champion, Country Champion, and World Champion
K1 Speed World Champion to receive $15,000 cash prize!
With over 40 locations across the world and growing, K1 Speed has solidified itself as the ultimate electric indoor karting experience in the industry. This success has led to an incredible expansion with K1 Speed's International Franchise Program, which has created K1 Speed locations in Mexico, South Korea, China, and Canada with more to come in Panama, Kuwait, and Puerto Rico over the next 12 months. This worldwide expansion has influenced K1 Speed's decision to ramp up the K1RS points competition and take our internal competition to new heights.
In 2019, one exceptionally talented racer will be crowned K1 Speed World Champion. Each K1 Speed center will determine their "Center Champion" which will be determined by an elimination-style format to be called, "The K1NG of Speed". To qualify, each racer will need to be a minimum of 14 years of age and to possess at least 4,000 K1RS points by the end of the year. Every racer starts with 1200 points at the beginning of the calendar year. Each Center Champion will then be invited to participate at the K1 Speed World Championship finale hosted by the all-new K1 Circuit in Southern California.
While K1 Speed has solidified itself as the leader in the indoor electric go-karting scene, K1 Circuit will be the company's official debut into outdoor electric pro-kart racing. K1 Circuit is a project that has been three years in the making and will be the first of its kind when it opens later this year. Everything about the location will be state-of-the-art, from the track to the amenities. The track itself will feature banked turns and dramatic elevation changes. It is here that a Region Champion, Country Champion, and a World Champion will be crowned during the final event.
Configurable track available for short, practice laps.
Or can be combined into a challenging 1.1 mile track with exciting elevation changes.
The final event will span an entire weekend, with racers earning cumulative points over a series of heat races. On the final day of the event, a grand finale will be held for the fastest racers in the competition. The racer with the highest points at the end of the competition will become the inaugural K1 Speed World Champion, with the top finishers from each country and region becoming the respective champions.
The top three finishers of the World Championship will be awarded with incredible cash prizes: $15,000 for first place, $7,500 for second place, and $3,500 for third place. In addition to the cash, other amazing prizes will be rewarded including products from K1 RaceGear's current lineup.
"With the introduction and popularity of electric racing series around the world, I'm ecstatic that K1 Speed will be creating an international series of its own," says K1's CEO. "The K1 Speed World Championship is the first international electric karting championship in the country, and we already cannot wait to see the best of K1 Speed compete against each other at K1 Circuit during the championship finale."
Those interested should start racing at their local center to earn points and practice for the opportunity to partake in this amazing international competition, the largest of its kind and with the biggest money purse to win!
Requirements
Participants must be at least 14 years of age
Participants must possess at least 4,000 K1RS points by end of year
"Center Champion" to be determined by "K1NG of Speed" elimination process to be held at local K1 Speed
"Center Champion" invited to World Championship finale at K1 Circuit to compete for Region Champion, Country Champion, and World Champion
Cash Prizes: $15,000 for World Champion, $7,500 for runner-up, $3,500 for third place
For any questions, please email [email protected].